Lesson 9 - Sense of Smell
For the next few lessons, we are going to focus on memories linked to our senses! First, we will start with smell. Spend some time thinking about smells that hold meaning to you. Use the memories of those smells to help you relive the memories and inspire your journaling. I really enjoyed this lesson once I gave it some thought. I did two pages and have two more planned! It is amazing how strongly smell links to memories.
Here is my take on Jessica's fantastic challenge!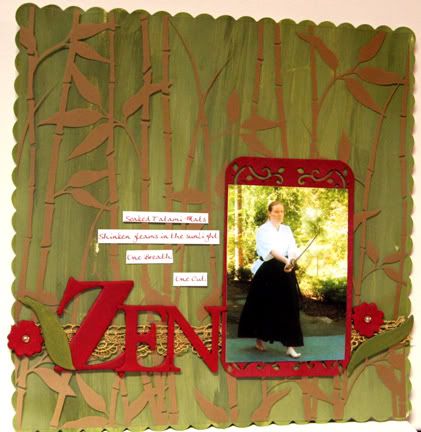 Detail:
The smell of wet Tatami mat brings me such a sense of peace as it is such a vivid recollection of my martial arts training. To cut with a real sword took such concentration and yet came very naturally to me.
The smell now focuses my thoughts in almost a meditative way. ( wrote the journaling on the back and wrote a Haiku to capture just the essence on the actual layout.
Supplies: Painted Bazzill CS
Hambly overlay
Prima packaging for the frame
Fancy Pants lace ribbon
Basic Grey chipboard.