Lesson 6 - Favorite movie, book...
Pick out your favorite movie, book, character, song, quote, art work---anything that was created by someone else, and explain why it is so important to you. Explain why this particular work speaks to you. More often than not we answer these questions with superficial answers such as, "well I can listen to it over and over again" or "it's just really pretty or fun to watch". What we're looking for today is to dig a little bit deeper into what has created this bond for you? Here are a couple questions to get you started on looking for that bond.

My favorite book of all time is the Lord of The Ring trilogy. I know I know how uber dorky. BUT I really do think it stands as one of the greatest works of literature of all time. I mean the detail work in these books is just mind boggling. I read and re-read them all the time. They live on my headboard and serve as the perfect bedtime reading.
My beloved P introduced me to them. His copies are totally battered from their 20= years of use and I was sick as a dog one day and he read to me. I was immediately transported to a world so familiar I could picture every stone and tree in my head. I was hooked.
And so here is my layout (which looks sooo much prettier in real life)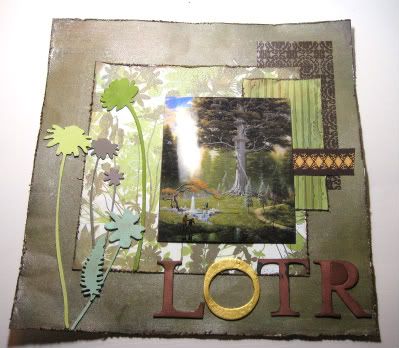 Supplies: Basic Grey chipboard alphas, Mellow patterned paper and back ground paper- which was sprayed with home made glimmer mist. Grunge board flowers, Hambly transparency, 7 Gypsies Gaffer tape and the photo is a famous Tolkien's artists interpritation of Lothlorien.