Lesson 4 - Story Behind the Photo
"Too often I see pages with no journaling. Don't get me wrong, I believe there are NO rules in creating. You don't want to journal, fine. But at the same time, there are often things we can not learn from that photo. The details, the context, the emotions. This week, I want you to tell the story behind a photo. It can even be a photo you have scrapped before. Dig deeper. Ideas to get you going"
Since this lesson was all about the journaling I kept my layout super simple. This is a layout mounted on a 12x12 piece of cardstock that has been folded in half like a giant card resulting in a 6x12 page. This way you open it up and have tons of room for journaling.
This layout Ak Eglite Ak Eglite is the story of how during Christmas our family has a tradition of getting our real tree and holding on to the tie downs on the drive home and singing Ak Eglite (Oh Christmas Tree in LAtvian). The photo is of my nephew Kristoper right before his first Christmas holding the rope Aleks used to tie down the Christmas tree. It was a super special moment as my dad had just passed away (I was actually in NJ for the funeral) to continue a tradition he started.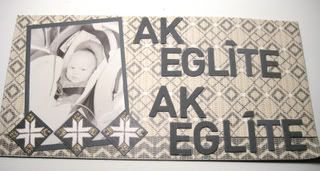 Supplies: The paper is super super old imagination project paper called Sweater Weather (and looked very latvian to me). Some gray bazzill, some stickles and pearls are all I used. Thickers are American Crafts Dolce.