This is the second lesson of Jessica Bree's Get Meaningful class.
Lesson 2 - Scrapping a Meaningful Photo
"Last week, your assignment was to pull 3-5 photos you love and to spend some time thinking what those photos mean to you. This week, I want you to scrap one of them. Preferably one you have put off scrapping - but this is NOT a requirement. Often I find I hold on to some of my most cherished photos, and feel a little intimidated about scrapping them. Or I scrap them, but don't really take the time to journal about why they mean so much to me. So this week I want you to DIVE in! Heart first :)"
So I went through all my photos on New Years and chose several for
lesson 1
. And decided that I wanted to make a page about my relationship with my mom.
As some of you know I have gotten out of the habit of scrapbooking and the thought of a yearlong class is sort of scary so I decided to scraplift a layout. I find that sometimes when I get scrappers block that if I start with a layout to scraplift then the creative juices start flowing and my mojo eventually returns.
There are so many fabulously talented people out there to draw inspiration from.
I found this layout on 2peas and just loved it.
Here is my take on it.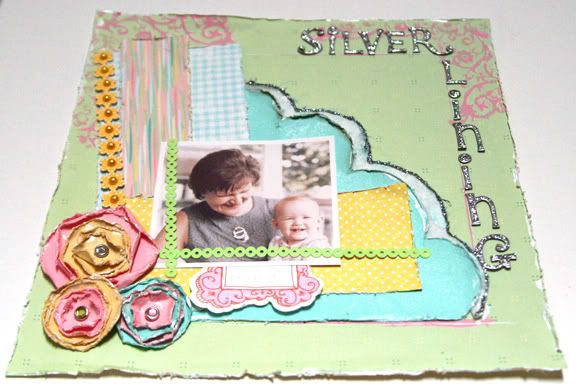 Tucked behind the clouds is journaling about my evolving relationship with my mom and what a better place we are now in. And yes that is

PINK

on the layout (As anyone who knows me will tell you I HATE pink! but it really worked with the page. lol)
And the closeup photo is of lollipop flowers that I made. So easy to do and I think very pretty.
I am also super proud as it uses some ancient paper- Scrapworks and Wild Asparagus circa 2003.

So there ya have it 2 lessons down 50 to go!