I have always been a pretty creative person. I can "see" all these wonderful items I could create in my head. My problem has always been in the execution. I struggle constantly with getting what's in front of me to match the vision I have for a project. I usually fail.
It's why I stopped scrapbooking several years ago.
I just got too frustrated sitting down and not being able to create what I could envision. I felt like Salieri from the movie Amadeus, and like him- this disconnect between what I could see and appreciate in other's and what I could do myself was making me more and more depressed. So I stopped creating.
But I have a

need

to create. It's who I am. and so with the support of some very special friends I am starting again. Slowly but surely. And I have discovered something interesting.... The more I create the easier it is, the better I get. Funny how things work sometime.
Currently I am working on the August Class at
Scrap Freak.
I had a vision of what I wanted to do but immediately started getting cold feet. So I sketched and plotted and planned and revised and planned some more. And then I started working on it. Slowly. I did the inside first then the chimney. Then the back of the little house. then the roof.
And you know what. I LOVE how it is turning out! for once everything seems to be just working out. And so here are some pics of my little project so far: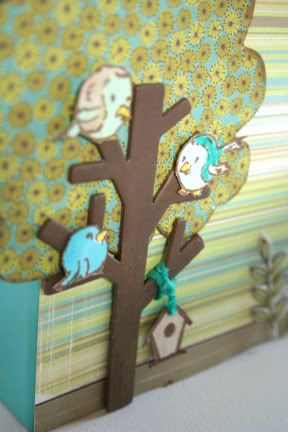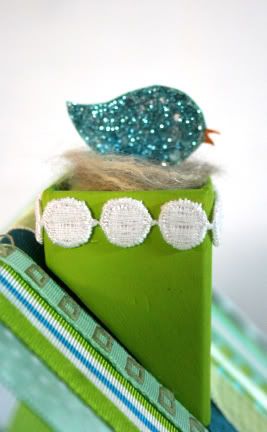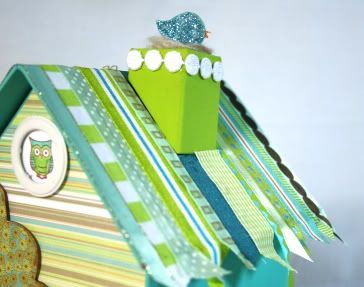 Supplies:

Striped Paper is Crate Paper - Birdie

Tree: Chipboard - Maya road covered in SEI Dill Blossom Paper. The trunk was painted with Making Memories paint then coated with a bronze glaze. The birdies in the tree are Bam Pop stamps and the one in my grommet window is Hero Arts.
The epoxy stickers are also from the
SEI Dill Blossom collection.


The ribbon on the roof is from everyone. Paper Trey Ink, American Crafts, KI Memories, SEI, Offray and others.

I made a little nest out of some mohair fiber and added bling eggs. Then I stamped and cut out a bird and coated both sides with stickles. He is my blue bird of happiness.

I will post more pics as I finish more of the little house.